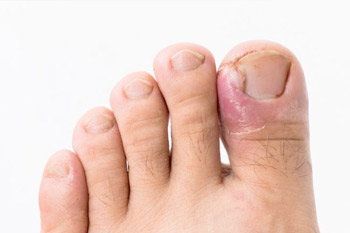 By
Admin
Ingrown Toenails – What Are They And What To Do About Them
During the course of our lives, our feet put up with a lot. They are our most important mode of transport and it is very important that we take good care of them, whether this means buying the right type and size of shoes or getting any issues sorted out as soon as they occur. One common issue that you might find yourself facing is an ingrown toenail.
What is an ingrown toenail?
A common foot issue, an ingrown toenail occurs when the corners or edges of the toenail press into the skin next to the nail. This most commonly occurs on the big toe. However, it can happen to any of your toes. It can be incredibly painful and can sometimes become infected. An ingrowing toenail can be caused by wearing shoes that squeeze your toenails together such as those with a narrow pointy front. It can also be a result of cutting your toenail incorrectly (either too short or not straight across), and via an injury to your toenail (for example by dropping something on it or kicking something).
How can an ingrown toenail be treated?
If it is not dealt with properly, an ingrown toenail can lead to more serious issues with your foot, so when you notice a problem you should take steps to resolve it as soon as possible. If you have an ingrown toenail there are a few things you can try at home to treat it, and these include:
Soaking your foot in warm water several times a day for a couple of days – this can help to soften the skin
Ensuring your foot is dry
Wearing comfortable, wide shoes that do not make it worse
You should not cut the nail or wear pointed shoes while you have an ingrown toenail.
Seeking help
Sometimes it is necessary to seek additional help from a Podiatrist if you have an ingrown toenail. We have recently seen an increase of patients suffering from ingrown toenails, and due to the lack of care available during COVID-19 lockdown, this has resulted in an increase of nail surgeries (partial or full removal of the nail). With early intervention and ongoing management of the infected toenail, a Podiatrist can provide routine maintenance and help to avoid surgical procedures, where possible.